COVID-19 Booster and Workplace News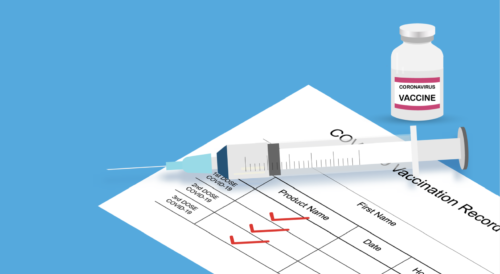 More People Eligible for COVID-19 Boosters
There are now COVID-19 booster recommendations for all three available COVID-19 vaccines in the United States.
According to the CDC, if you received a Pfizer-BioNTech or Moderna COVID-19 vaccine, the following groups are now eligible for a booster shot six months or more after being fully vaccinated (two doses):
65 and older
18+ who live in long-term care settings
18+ who have underlying medical conditions
18+ who work or live in high-risk settings
If you received the Johnson & Johnson COVID-19 vaccine, booster shots are recommended for those who are 18 and older two or more months after the initial dose.
Vaccine Mixing Allowed
If you are eligible for a booster, you have the possibility to choose which (Pfizer-BioNTech, Moderna or J&J) vaccine you receive as the booster dose. The CDC's recommendations now allow for this type of mix and match dosing for booster shots; however, ALL vaccines are effective. I strongly recommend that if you choose to "mix and match" vaccines as a booster dose, do so in consultation with your healthcare provider.
Pfizer-BioNTech Vaccine for Children Ages 5 to 11
The U.S. Centers for Disease Control and Prevention (CDC) has adopted the recommendation for children ages 5-11 to receive the Pfizer-BioNTech COVID-19 vaccine. The children's doses are about one-third of the dose given to adolescents and adults. The vaccine is already approved for emergency use in children 12-15 years old. Parents should consult with their child's pediatrician or family-medicine provider to learn more.
Federal Workplace Mandates
New federal COVID-19 vaccination requirements under OSHA regulation apply to employers with at least 100 workers as well as state and local government workers in 26 states, including teachers and school staff. Employees will be required to get a COVID-19 vaccine or otherwise undergo weekly testing after January 4, 2022. Recovery from COVID-19 or testing positive for COVID antibodies does not replace the need for vaccination.
Progress Ending the Pandemic
Studies show the incidence of COVID-19 infection, hospitalization, and death is much higher among people who are unvaccinated compared to people who are fully vaccinated. In fact, recent CDC data shows that people who were unvaccinated were 11-12 times more likely to die from COVID-19.
Millennium is not offering booster or initial COVID-19 vaccine doses at this time because the vaccine is widely available. Click here to find a location convenient for you.
Comments are closed.