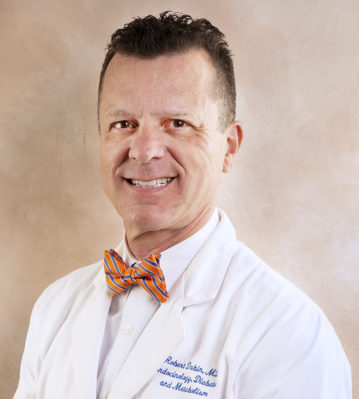 Robert L. Dubin, M.D., FACP
Specialties:
Diabetes, Metabolism, Obesity medicine, Endocrinology, Internal Medicine
Robert L. Dubin, M.D., FACP, earned his medical degree at Creighton University School of Medicine.  He completed his internal medicine residency at the University of Vermont and his endocrinology fellowship at Louisiana State University Health Sciences. Dr. Dubin also worked with Pennington Biomedical Research Center in Baton Rouge, Louisiana, for obesity science research.
He came to Sarasota in 2003 as an Assistant Clinical Professor for Florida State University College of Medicine.  His clinical interests include complicated diabetes care, emerging technologies for diabetes, medical obesity management, thyroid, and parathyroid diseases.  He enjoys music performance and composition, international cuisine, and tropical gardening.
Dr. Dubin is board-certified in internal medicine, endocrinology, diabetes, metabolism, and obesity medicine.