Flu Vaccine Delay – What you need to know!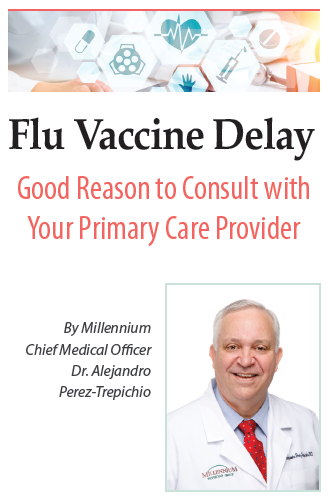 The 2019-2020 flu vaccine is anticipated to arrive three to four weeks later than its usual delivery date in early August. This delay is no cause for alarm, nor should it result in a vaccine shortage. The delay should, however, drive home the importance of working with your primary-care provider when it comes optimizing your health. Millennium is working closely with vaccine  manufacturers and distributors, and we have been assured the doses we ordered last winter should arrive by late August or early September – well before the start of flu season. A late outbreak of the flu earlier this year caused the delay, prompting the World Health Organization and the Food and Drug Administration to reformulate the combination of flu strains in this year's vaccine to better reflect the circulating virus types.
This delay should produce a more effective vaccine and highlights why you should get vaccinated with your primary-care provider. Millennium wants you to have the most effective flu shot available, and this is something you might not get elsewhere. Additionally, your primary-care provider knows you and takes the opportunity to give you personalized care very seriously. This includes recommending the best type of dose to fit your medical history and needs and documenting the vaccine type used in your medical record.
Comments are closed.