Millennium's Brand-New Englewood Medical Center Now Open!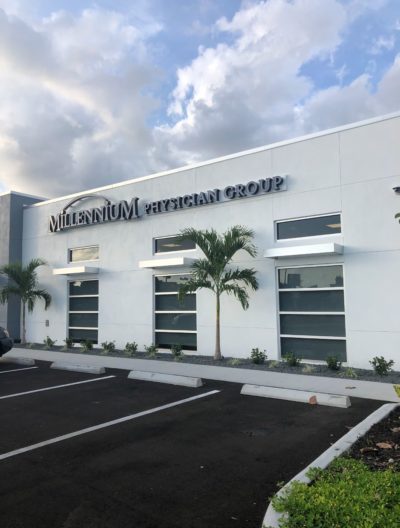 Millennium's Englewood Medical Center opened for business Monday, November 4. The state-of-the-art, 20,000 square foot building at 3000 McCall Road is the first we designed and built from the ground up and with our patients in mind. Drs. Jack Baron, Todd Chace, Ramon De Leon,
David Gooding, Lynette Llerena, and Rhoniel Perdigon call this new facility home. Patients can also take advantage of a lab, imaging center and walk-in center on-site. With all these services available, Millennium is excited
to be able to provide a comprehensive and coordinated approach to healthcare. At Millennium, we believe in streamlining processes and reducing barriers to healthcare for our patients; and at this new Englewood
Medical Center, patients could have all their medical needs taken care of at one, modern, pleasing center. By providing the right care at the right time in the right setting, we will be our patents' connection to a healthier life.
So far, the Englewood team is seeing approximately 150 patients a day; that's about 100 established patients that are being seen for their primary-care needs and about 50 more that are being treated at the walk-in center for more urgent needs. Additionally, we will be building on the services we are now offering. We know there is a need for specialists in the community; we will be adding neurology and endocrinology in January, along with CT imaging capability. That is also when we plan on having our grand opening and ribbon cutting, so stay tuned.
Comments are closed.