New Normal Can Spark New Traditions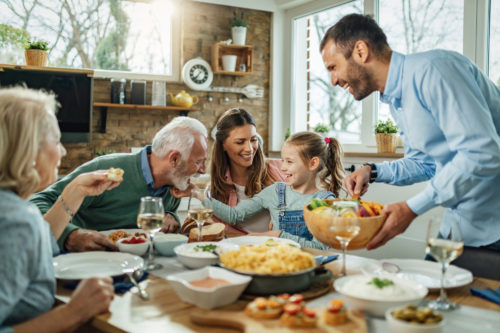 Let's rejoice in the season of gathering! Cooler weather arrives, and we start planning for the holidays. We make our grocery lists, stockpile ingredients, and order the turkey. My family also gets a smoked ham from Ward's Supermarket. Thanksgiving's my favorite holiday.
Every November I survey my patients with this question: "What dish is your favorite? Without it, Thanksgiving wouldn't be the same?" Maybe the sweet potato biscuits or corn pudding. I do love apple pie for breakfast on Black Friday. But for me, the requirement is spinach balls with spicy mustard sauce. It's weird, I know. But my plate is just incomplete without them. I'll share a secret; the spicy mustard makes leftover turkey sandwiches the BEST!
I love Thanksgiving because I love cooking and being surrounded by the people I love. I'll cook and bake myself silly to make them happy and content.
After two years of COVID-19 lockdowns, we're all eager to get back to normal and restore old traditions. There will be empty chairs. Folks will be missing. Those hollow spaces may make holidays difficult, even sad. All the remembrances are bittersweet. Try adding something new this year. Get an oral history from your oldest family members. Look through old photo albums or let the kids create a new digital album from everyone's smartphone photo galleries. Maybe this is the year to invite new guests, welcome a stranger and break bread in fellowship for all that blesses us.
The abundance of Thanksgiving isn't about gluttony (or full-contact Black Friday shopping.) It's about the richness of shared connection. That can be a solitary walk in the woods communing with the glory of nature. It can be a 5K Turkey Trot or nine holes of golf on a misty Thursday morning. Maybe pile on the sofa watching vintage cartoons or plant a tree for that family member who has passed. There is always the lavish family banquet overflowing with everyone's most favorite dishes. Pass the spinach balls please!
SPINACH BALLS WITH MUSTARD SAUCE
2 packages frozen chopped spinach, thawed and drained as dry as possible
2 large eggs, beaten
2 egg whites
1 c. shredded parmesan
2-3 c. herbed or cornbread stuffing, crushed
1 ½ sticks butter, softened
Mix all ingredients, roll into 1½  inch balls. Place on cookie sheet and freeze. Can be made 1 week ahead. Thaw 30 minutes prior to baking. Cook for 30 minutes until browned @ 350°F.
Mustard Sauce
2 – 4oz tins of Coleman's dry mustard
½ cup vinegar
1 egg yolk
½ c. sugar
Mix mustard and vinegar in bowl and set aside. This can be left covered in plastic wrap overnight. The longer it sits the spicier the sauce. Mix egg yolk and sugar with mustard mix in small saucepan over medium heat. Bring to a slow boil and simmer one minute, stirring constantly. Pour into gravy boat and serve immediately. You'll want to double it, so you'll have leftovers.
Comments are closed.