When NOT to Go to the ER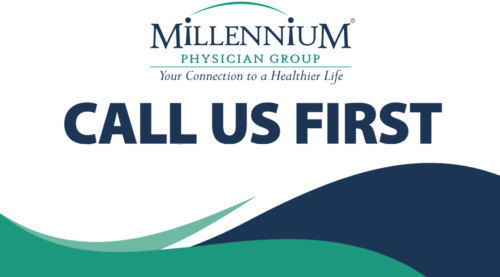 When is an emergency really an emergency? And when can your medical issue be taken care of by your primary-care provider? Family Physician Manuel Garcia, M.D., says the answer is just a phone call away. "Most people should have a primary-care physician who knows them medically, who they can call and consult, it's very important."
You'll hear all sorts of advice about when you should go to the emergency room, but what about when not to go? Many of the top health issues are best addressed by your own primary-care physician. In fact, to avoid unnecessary trips to the ER, Millennium Physican Group encourages patients to "Call Us First." Even at 11:00 p.m. or on a weekend, 24/7 if you need care, call your provider's office number to get in touch with your care team to coordinate the best care for your healthcare needs.
While research is showing that in recent years, fewer and fewer Americans have a primary-care provider, studies reveal that people who do have one are much happier with their healthcare than those who don't. "Since we know the patient, we can give them better advice as to what to do," says Dr. Garcia. "Sometimes yes, it is going to the emergency room, but it's not that often.
Dr. Garcia says elevated blood pressure is one of the top reasons someone should consider calling their primary-care doctor before heading straight to the ER. "I would rather see him in the office," he says. "The only thing the emergency room is going to do is give him some pills and wait around for his pressure to come down."
And it definitely pays to think about the right place to go at the right time. Treatment in an emergency department can cost two to three times more than the same care in your doctor's office.
Comments are closed.