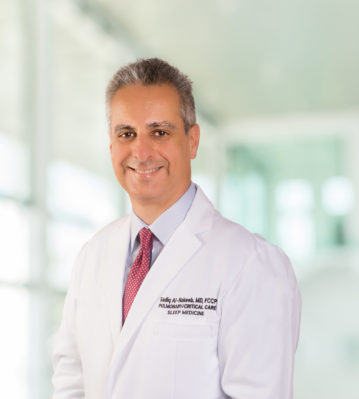 Sadiq J. Al-Nakeeb, M.D.
Specialties:
Internal Medicine, Sleep Medicine, Pulmonology, Critical Care
Sadiq J. Al-Nakeeb, M.D. is a quadruple board-certified specialist in Sleep Medicine, Pulmonary Medicine, Critical Care Medicine, and Internal Medicine. Dr. Al-Nakeeb earned his Doctor of Medicine from Baghdad University School of Medicine. He completed a post-doctorate clinical attachment at Birmingham University, in England.
After his relocation to the United States, he completed a three-year Internal Medicine residency at Marshall University in Huntington, West Virginia. Dr. Al-Nakeeb went on to further his education by completing a two-year fellowship in Pulmonary and Sleep Medicine at Marshall University. In addition, Dr. Al-Nakeeb completed an advanced fellowship training in Critical Care Medicine at the University of Pittsburgh Medical Center.
Dr. Al-Nakeeb served as an assistant clinical professor at Ohio University, teaching and mentoring residents who were rotating at Southern Ohio Medical Center.
He served as the Medical Director of the Critical Care Program, as well as the director of the Sleep Center at Lehigh Regional Medical Center.
In 2016, he was instrumental in developing and directing a successful Pulmonary Rehabilitation Program for Physician's Regional Medical Center, at both the Pine Ridge and Collier campuses.
Dr. Al-Nakeeb served as the Medical Director of the Sleep Disorders Center at Physicians Regional Medical Center. Under his directorship, the Sleep Center received accreditation by the American Academy of Sleep Medicine, meeting the high standards required for receiving accreditation as a Sleep Disorders Center.
Dr. Al-Nakeeb is a fellow of the American College of Chest Physicians. He is also a member of various professional societies including Collier County Medical Society.
In addition to the above societies, Dr. Al-Nakeeb was nominated as an FL TopDocs recipient in 2018, 2019 and 2020, and as a Castle Connolly Regional Top Doctor since 2019.
Dr. Al-Nakeeb has been practicing medicine for over 25 years. He welcomes you to his practice.