Healthy Holiday Choices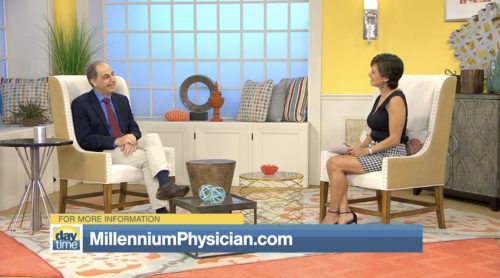 Don't use the holidays as an excuse to overindulge and put off healthy choices until the New Year. Millennium Physician Group Family Medicine Physician Nektarios Demetriou, D.O., says unhealthy choices now can lead to bigger consequences down the road.
FULL TRANSCRIPTION:
Maggie Rodriguez:
It's the season for overindulging, but we can make healthy choices this holiday. Here to tell us why we shouldn't put our health on pause until the New Year is Dr. Nektarios Demetriou with Millennium Physician Group. Welcome back doctor.
Dr. Nektarios Demetriou :
Thank you very much.
Maggie Rodriguez:
So many people take advantage of this time to just eat whatever they want, why do you say that's a bad idea?
Dr. Nektarios Demetriou :
Well, the problem is this is a very difficult time of the year to contain how much you eat because it's just everywhere. People coming to your house, people coming to your work bringing lots and lots of food. But remember, if you indulge in all that food, you're going to have to do a lot of work to take it off. So there's ways to go around that, and that would be enjoy the season, enjoy some of the food, but everything in moderation.
Maggie Rodriguez:
I knew you were going to say that. I knew you were going to say that. But there are still people who know this well and have heard it and still say, "But why is it such a bad idea to just indulge now and then in the New Year I'll start fresh and I'll start getting healthy then?"
Dr. Nektarios Demetriou :
Because it's a psychology, it's a mindset. When I'm just going to have that one piece of chocolate and then I'll have the other piece of chocolate. And then next thing you know, you've let yourself go so far that the work to bring it back in and the work to start losing weight is so difficult. What took you maybe one month or four weeks to put on could take you six months to a year to maybe never taking it off.
Maggie Rodriguez:
It's so true, it's never worth the indulgence.
Dr. Nektarios Demetriou :
It's not worth it.
Maggie Rodriguez:
It's never worth it. Some people though find themselves eating more because the holidays bring a lot of stress and it's how they deal with the stress. So as a physician, what are your recommendations for dealing with holiday stress?
Dr. Nektarios Demetriou :
That's very difficult because a lot of people during the holiday season experience stress because of a number of different reasons. It could be family issues, it could be work issues, it could even be the cost of buying gifts for everybody. The most important thing to know, especially during this period of time with stress, is to find that happy spot. Think about the things that make you happy, even if it's just a small bit of exercise that you can do for maybe 10 or 15 minutes a day just to regroup yourself. And try to enjoy the food but not to the point where it's excessive, just small little indulges here and there. And do things that you know will help you relax. To just enjoy the season rather than put so much burden on yourself where you're just so stressed you just forget it's a holiday season to enjoy,
Maggie Rodriguez:
Exactly. I like that. And I know that we're coming up on the Medicare enrollment deadline, so do you have any quick suggestions for people?
Dr. Nektarios Demetriou :
Yes, absolutely. Medicare enrollment deadline is actually in a few days from now. So make sure that you sign up and make sure that you start getting your prevention plan in place.
Maggie Rodriguez:
All right. And I hope you'll come back and talk to us more about that because I think a lot of people get confused about Medicare. They don't know at what age they're eligible, if there's an option. And so the quick answer to that is?
Dr. Nektarios Demetriou :
65 and up. And enrollment right now with the Medicare advantage plans, which will basically enable you to experience the best of prevention at most likely the lowest cost.
Maggie Rodriguez:
All right, very good. I'm glad we got that out there. But again, please come back and we'll talk more in depth about Medicare.
Dr. Nektarios Demetriou :
Thank you.
Maggie Rodriguez:
Thank you, doctor. And if you'd like more information on how to find a physician or schedule an appointment, please visit millenniumphysician.com. And for help with Medicare options, visit yourmedicareconnect.com. Daytime will be right back.
Comments are closed.