Vaccines Remain the Best Tool to End the Pandemic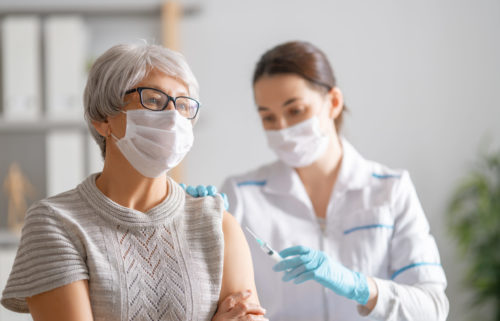 By the Numbers
As of October 14, the CDC reports about 218 million people, or 65.6 percent of the total U.S. population, have received at least one dose of vaccine. About 188.3 million people, or 56.7 percent of the total U.S. population, have been fully vaccinated.
Vaccinating the Unvaccinated
As COVID-19 booster dose recommendations continue to evolve, we are reminded not to lose sight of the importance of vaccinating the unvaccinated. "This remains one of the most important tools in ending this Pandemic," reminds Millennium Physician Group Chief Medical Office Alejandro Perez-Trepichio. "If you haven't yet done so, please get vaccinated; to protect not only yourself but your loved ones and those who cannot get vaccinated."
COVID-19 Booster Doses Recommended for More Americans
With the delta variant's continued dominance as the circulating strain across the U.S., a booster shot will help strengthen protection against severe disease for those who are at high risk for exposure to COVID-19 or severe complications.
"There remains a lot of confusion about who's eligible for a booster and when," admits Dr. Perez-Trepichio. The CDC's official recommendations for each of the booster doses are:
Pfizer-BioNTech: Earlier in September, was initially authorized ONLY for those moderately to severely immunocompromised 28 days or more after their second dose. NOW, the following groups are also eligible for a booster dose at least 6 months after receiving both Pfizer vaccination:
Moderately and severely immunocompromised people 18 and older
65+
18+ who have underlying medical conditions
18+ who work in high-risk settings
18+ who live in high-risk settings
Moderna: Remains authorized as a booster ONLY for moderately to severely immunocompromised people. However, this is likely to change in the short term.
A panel of expert advisors to the U.S. Food and Drug Administration (FDA) unanimously voted October 14 to recommend booster shots of Moderna's (MRNA.O) COVID-19 vaccine for those 65 and older and those at high risk of severe illness or occupational exposure to the virus at least 6 months after the second dose. CDC advisers are scheduled to meet later this week.
Johnson & Johnson:
The same FDA advisory panel voted October 15 to allow booster shots for those 18 and older at least 2 months after receiving the Johnson & Johnson's single dose vaccine. Regulatory agencies (FDA and CDC) have not yet offered a recommendation on booster shots for those who received the Johnson & Johnson vaccine, though it is expected to happen within the next few weeks.
Furthermore, it is possible that updated recommendations in the near future will allow the "mixing" of different vaccines schedules (i.e., getting a booster with Moderna or Pfizer after the single dose of J&J.)
Measuring antibodies
Please DO NOT rely on antibody levels to decide if you need to get vaccinated.
"As the CDC continues to monitor the safety and effectiveness of COVID-19 booster doses, Millennium will keep you updated with appropriate recommendations to keep you and our team members safe," advises Dr. Perez-Trepichio.
Comments are closed.