Don't Let Guilt or Shame Stand in the Way of This Life-Saving Screening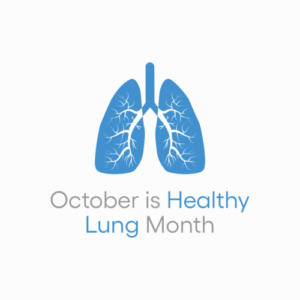 Family Medicine Physician
Go ahead … take a deep breath … now imagine if you couldn't. October is Healthy Lung Month, and if you're a current or former smoker, it's the perfect time to speak with your primary-care provider about possibly being screened for lung cancer.
Research has shown that better than annual chest x-rays, yearly low-dose CT (LDCT) scans to screen people at higher risk for lung cancer can save lives. LDCT is so much more specific and accurate in identifying abnormal growths, and it has been shown to decrease the risk of dying from lung cancer because it can be caught so much earlier.
Your initial visit with a new primary-care provider, your yearly physical, or Annual Wellness Visit are the best times to discuss with your provider if you may be at a higher risk for lung cancer and therefore eligible for lung cancer screening. The U.S. Preventive Services Task Force recommends yearly lung cancer screening with LDCT for people who:
Have a history of heavy smoking, and
Smoke now or have quit within the past 15 years, and
Are between 50 and 80 years old
Even if you don't meet the eligibility criteria, if you have a chronic cough, a cough that gets worse over time, a cough where you bring up a little blood in the mucus, or chest pains on the outside or back of your chest, you should discuss lung cancer screening with your doctor.
Although early detection and treatment is ideal, only 15 percent of lung cancer cases are diagnosed at an early stage. Smoking is the largest risk factor for lung cancer, causing about 85 percent of lung cancer cases in the United States. Most people diagnosed with lung cancer are 65 or older, and the average age at diagnosis is about 70.
Currently, annual screening with LDCT is the only recommended screening strategy for lung cancer, and most insurance plans and Medicare help pay for recommended lung cancer screening tests. Don't be afraid of screening. It's really simple. It's no more involved than getting a simple x-ray of your chest.
There are often misplaced feelings of shame or guilt associated with being a smoker and being at risk for lung cancer. Don't feel guilty. It's not anything to be ashamed of. This is an everyday type of topic that you should be discussing with your primary-care provider. If you're a current or former smoker, don't be shy about discussing it with your doctor. We're not here to form judgments on people, our goal is to help decrease your risks and to improve your overall health, no matter what the issue.
____________
Brian D. Zelis, M.D.
10201 Arcos Ave, Ste 105
Estero FL 33928
(239) 938-9298
Comments are closed.