Millennium Physician Group Bringing Innovation and Technology to the Forefront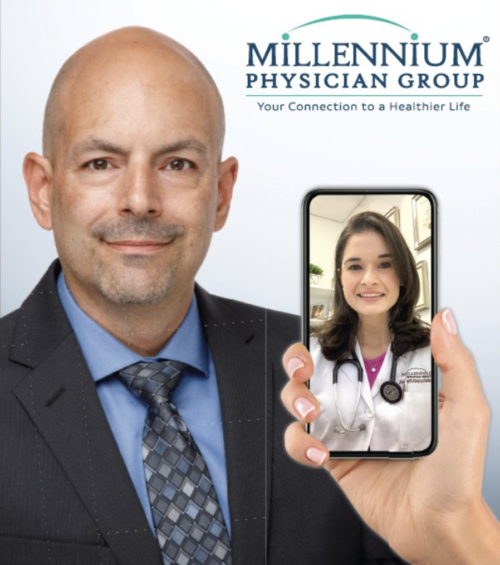 Who Am I?
Name: Jeffrey Nelson, DHA
Title and Company: Chief Innovation Officer, Millennium Physician Group
Years with the Company: 12
Years in Southwest Florida or Years in County: 21
Nature of Business: Full-service physician group
Education: Doctor of Health Administration
Hometown: San Diego, CA
What do you typically tell people when they ask you what you do?
I transform Millennium's healthcare delivery model by leveraging innovative technology, systems, and processes to allow for a better experience for our patients, providers, and employees. My area of responsibility touches on every facet of Millennium. We are focused on bringing the best-in-class technological innovations to the forefront to Millennium Physician Group, which has more than 550 healthcare providers at 150 locations in 19 Florida counties serving nearly half a million patients.
How have you integrated new technology into your business?
Rapid expansion of service delivery through technology, that's really what we're about, especially in our innovation area, really focusing on how we continue to push the envelope. We have created a culture of change and innovation, and throughout the years, we've always been on the forefront of technology. I'm consistently asking the questions: What is the opportunity that we are trying to solve for, and how will it impact our patients, providers, and employees? Will it make their lives easier and the experience better? We integrate technology based on these answers.
At the height of the Pandemic, Millennium's physician and innovation teams swiftly deployed our proprietary telehealth platform, MPG Connect. We built it locally, from the cloud up, and launched it in less than a week. Millennium physicians were able to preserve their connection with their patients when they needed it most, turning a challenge into an opportunity. Today, telehealth is a sustainable care delivery system Millennium healthcare providers leverage hundreds of times a day across the organization.
In the last few months, Millennium launched a first-of-its-kind Virtual Care Clinic, initially staffed by Tampa and Gainesville-area physicians who use MPG Connect to virtually see patients after hours. Millennium's Virtual Walk-In Clinic providers conduct virtual visits to treat a variety of acute-care issues, from sniffles and strains to earaches and stomach aches. The Virtual Care Clinic will ease strains on overloaded ERs and Urgent Cares, with the ultimate goal of providing Millennium patients the care they need, when they need it most.
How do you stay in touch with what's emerging on the technology and innovation fronts?
I'm constantly researching emerging trends in the healthcare industry and other industries to learn from and implement back into Millennium. One example is how the patient consumerism of healthcare has taken hold; what I mean by that is ease of making an appointment, communicating with the doctor, obtaining lab results, increased telehealth visits, reducing wait times in the offices, and so on.
How have you been able to cultivate such a loyal customer base?
By focusing on our core mission of connecting our patients to a healthier life, we remove the abrasions typically found in the healthcare experience and setting. This includes developing & implementing patient-centric solutions that focus on patients receiving better care and accessibility. Millennium recently launched our new CareConnect app that will give the patients a unique digital front-door experience when interacting with Millennium.
What do you do to keep your employees motivated?
I'm a servient leader and recognize that my role is to help my employees be successful. Employees are always included in new projects and have a voice at the table from the initial onset.
What is one thing most people don't know about your company?
Millennium was the 2019 Healthcare Innovator of the Year recipient by the healthcare industry publication Healthcare Innovation beating out Bon Secours, MercyHealth, UnitedHealthcare, and Allina Health. In part, due to our advanced care management processes.
Click here to read the article in Florida Weekly
Comments are closed.