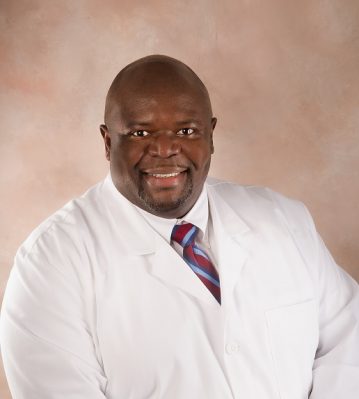 Olumide Oyeyipo, M.D.
Specialties:
Internal Medicine
Olumide Oyeyipo, M.D., internal medicine physician, was born and raised in Nigeria, West Africa where he earned his medical degree.  As a medical student, he developed a keen interest in preventive and community medicine and had a distinction in the course. His eagerness to learn and pursue excellence made him travel to the United States for a post graduate medical training in Internal Medicine at Woodhull Medical and Mental Health Center, Brooklyn, New York and was the best graduating medical resident in his set. He moved to Southern United States and practiced Traditional Internal Medicine and Hospitalist Medicine in the States of Mississippi and Georgia respectively for ten years. He distinguished himself in both States and was awarded the key to the city of Indianola Mississippi by the then Mayor in April 2007 in recognition of his service to the people of the community. He was recognized as the Physician of the month at Floyd Medical Center, Rome, Georgia in January, 2011.
He moved back up north to New York City, temporarily with his wife to complete her residency training program. Over the last three years, Dr. Oyeyipo worked with the largest Hospital Corporation in the United States; NYC Health and Hospitals, Harlem, where he successfully led a lot of the initiatives on improving patient care while reducing overall health care costs.  He was also actively involved in the training of Internal Medical residents at Harlem Hospital and Medical Students from Columbia University Medical Center in Primary Care Medicine.  He continued to see his own panel of patients and had the best metrics with regards to Blood Pressure and diabetes control in hypertensive and diabetic patients at Harlem Hospital Adult Primary Care Medicine practice, New York.
Dr. Oyeyipo has the care of his patient's utmost at heart and focuses on treating the whole person, with special attention to preventive medicine and chronic disease management.  He enjoys caring for persons from all walks of life.
For leisure, he enjoys playing chess, going sightseeing and spending quality time with the family.