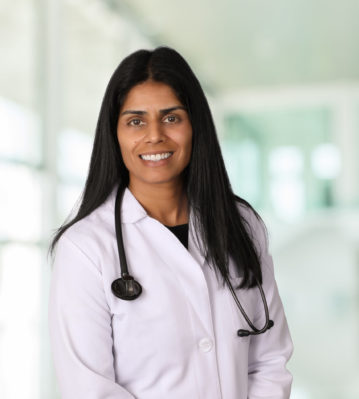 Pareena Bilkoo, MD
Specialties:
Cardiology, Interventional Cardiology
Sarasota Interventional Cardiologist Pareena Bilkoo, MD, is here to better coordinate your healthcare from your primary-care physician to one of our specialty offices. In collaboration with your primary-care physician she understands your health history, offering you a seamless patient experience.
Education: Doctor of Medicine, Ramaiah Medical School, Bangalore University, Bangalore, India
Residency: Michael Reese Hospital, University of Illinois at Chicago, Chicago, Illinois
Fellowship: Cardiology, University of Connecticut, Farmington, Connecticut
Interventional Fellowship: University of Kentucky, Lexington, Kentucky
Specialty: Cardiology and Interventional Cardiology
Clinical Interests: Treatment and prevention of Coronary Artery Disease, post heart attack care, arrhythmias (A-Fib), hypertension and hypertensive heart disease, congestive heart failure management, high cholesterol, Women's heart health and primary prevention of Atherosclerosis/Coronary Artery Disease
Dr. Bilkoo is the Director of the Cardiac Catheterization Lab at Doctors Hospital of Sarasota
About Millennium Physician Group
Founded in Port Charlotte, Florida, in 2008, and now headquartered in Fort Myers, Millennium Physician Group has quickly become the leading independent physician group with more than 800 healthcare providers across the Southeast. Services center on primary care and are complemented by specialty care, walk-in centers, radiology and lab services, physical therapy, telehealth, wellness programs, home health, hospital care, and much more. Nationally recognized as a leader in value-based care with consistently high levels of physician engagement, Millennium aims to create a genuinely connected healthcare experience for patients by providing a comprehensive and coordinated approach to healthcare… and be Your Connection to a Healthier Life.