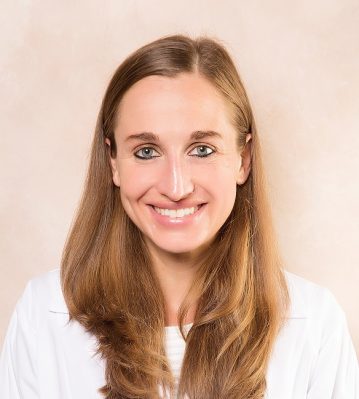 Michelle Evans, DO
Specialties:
Neurology
Michelle Evans D.O. is a Board Certified Neurologist who focuses on general neurology with special interests in migraine, facial pain, and cluster headache. She is located in Port Charlotte, Florida.  Dr. Evans also specializes in other neurological conditions including dementia, neuropathy, seizures, strokes, movement disorder, multiple sclerosis, and sleep disorders.  Procedures she performs include:  Botox for chronic migraine, cervical dystonia and spasticity.  She also does neuro-diagnostic testing which includes nerve conduction studies, electromyography and electroencephalography.  Also, Dr. Evans does nerve block and trigger point injections for neck pain, myofascial pain and occipital neuralgia.  She also performs sphenopalatine ganglion blocks for headaches and facial pain.
Dr. Evans completed her residency in Neurology at Larkin Community Hospital with the Consortium of Excellence in Medical Training. She completed her Fellowship Training in Headache and Facial Pain from the University of South Florida in Tampa, Florida.  Her Doctor of Osteopathic Medical Degree was earned from Kentucky College of Osteopathic Medicine in Pikeville, Kentucky.  She obtained her Bachelor of Science from Heidelberg University in Ohio and received her diploma in Chemistry and Biology with Honor Degrees.
Dr. Evans was co-chief resident during her neurology residency program during the year 2015-2016 and Chief Resident in the year 2016-2017.  She has been involved and received many research awards. She was a recipient of the Frontiers in Headache Research Scholarship Award with the American Headache Society 2017 Scottsdale Headache Symposium; Presented the Poster "The use of Acetazolamide as treatment of Migraine triggered by weather related changes, a Retrospective study."  During medical school, she was a Sigma Sigma Phi Honorary Member. She has been involved in research pertaining to cases involving a novel approach of treatment for cerebral venous thrombosis, case study and treatment update for cryptococcal meningitis.  She also has participated in Larkin television in Miami, Florida educating the public on stroke updates, warning signs, treatment and prevention to the general public.
She is a current member of the American College of Osteopathic Neurology and Psychiatry, American Neurological Association, American Headache Society, American Osteopathic Association, and American Interventional Headache Society. She is Board Certified in Neurology and is a Diplomate of the American Osteopathic Board of Neurology and Psychiatry.