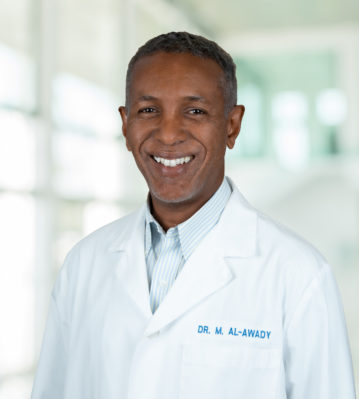 Murshid Al-Awady, M.D
Specialties:
Family Medicine
Murshid Al-Awady, M.D., is a graduate of the University of Padua School of Medicine and Surgery. He obtained a degree of Doctor in Medicine and Surgery at the same university in 1986. Dr. Al-Awady joined a four-year specialty program in Internal Medicine and Nephrology, obtaining a diploma in Nephrology with SUMMA CUM AND LAUDE in 1990.
As he was training as an Internist and a Nephrologist, Dr. Al-Awady was a part of a research group at the prestigious University of Padua in Italy. He published over 20 research papers in the fields of hypertension, diabetes, osteoporosis, kidney stones, abnormality in calcium and Vitamin D metabolism and other articles and papers as an author and co-author.
In 1991, Dr. Al-Awady joined Interfaith Medical Center in Brooklyn, New York, to obtain additional Internal Medicine training. From 1992 to 1995, he continued to train as a family medicine physician at St. John's Medical Center in Detroit, Michigan. Dr. Al-Awady worked for three years in rural Michigan before settling in Clay County with his family in 1998. Dr. Al-Awady has practiced in Middleburg since 1998, and he is affiliated with numerous hospitals and nursing homes.
Dr. Al-Awady is determined to deliver the most advanced and up-to-date medical care to the Clay County community. As a clinician with experience in vast areas of internal medicine and family practice, Dr. Al-Awady trains medical students in Clay County. He is committed to his patients and the greater good of society by contributing to the art of medicine and future doctors' training. He provides an introduction and exposure for future retention to provide service to the Clay County citizens.
Dr. Al-Awady is a practicing physician in Clay County, a mentor, and a clinical professor of medicine at Edward Via College of Osteopathic Medicine.
Dr. Al-Awady is board certified in family medicine. He is married with three children.